Let's start with that pesky crocodile!
Photographic evidence of him prowling around the farms livestock… Felix has actually been having a ball playing with him as part of her farm, though she now insists that I need to knit some tiny ducks to keep him company in the pond.
Company, eh? More like snacks…
Anyhow, cuteness aside, I just finished another little project:
A pair of 'magic mittens' – I'll get to the story in a moment, details first. The mitten pattern is a free Ravelry download called The World's Simplest Mittens by tincanknits – and it's true to its name.  There's schematics for different sizes of mittens in all different weights, and it's clear and concise. Definitely a keeper of a pattern. The elephant chart itself is from another free pattern – Elephant Hat – Child Size by Kathleen Taylor.
Story time now. My bosses little one, and Felix's 'best friend' has really bad eczema. And of course, it itches. As a sufferer of eczema myself, I know just how hard it is not to scratch. She's three. She wakes up looking like she's been butchered in the mornings from scratching so much.
So, Magic Mittens it is! Lightweight cotton mittens in the colours she picked out with an animal of her choosing on them, and ties that can be double knitted so she won't be able to pull the blasted things off.
I was made to wear wooly mittens as a child. In summer. These are a much kinder alternative! Fingers crossed they'll help – if she can stop scratching long enough for her cream to work…
And last but not least: St Gertrude's Day.
On March 17th, also known as St Patrick's Day, it happens to be St Gertrude's Day too. She is the patron saint of cats, gardeners and mental health. When we fostered cats, as we never knew their actual ages let alone dates of birth, it became habit to celebrate all the cats birthday on St Gertrude's Day. This year, even though we know Dashi's birthday, we still don't know Crumble's (we reckon she's getting on for eight years old now!) so the tradition continues.
Felix was particularly happy to help celebrate the cats birthday, there was presents and special cat came too – tuna cake with salmon paste 'frosting'.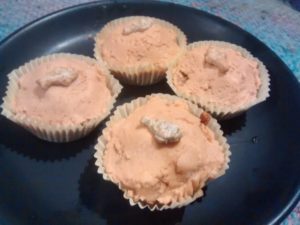 I personally think yuck, but Engel happily ate one of the spares and went on the prowl for more. Not that the cats lefts much in the end!
Starting total – 650
Wool used – 25 (1 since last post)
Wool bought – 0
Wool given – 46
Wool gifted – 16
Total – 655 (So close to getting back to that starting total!)