Phtang phtang…
Cthuhlu phtang!
This time last year I posted about how awesome my friends are. How they all donned on cat ears and played Cathuhlu all just for my birthday.
They out did themselves this year, and I have to say, my friends are more than awesome, they're amazing!
I mean seriously, look at this cake!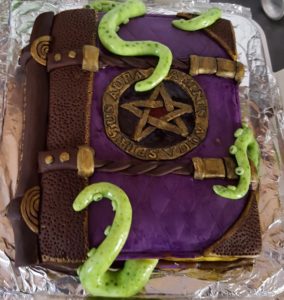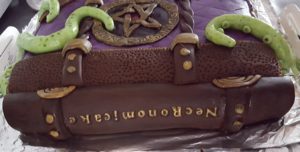 It's the Necronomicon, as a cake!
It's not the first amazing cake that particular friend of mine has made for my birthday, two years ago, it was this tentacular beauty!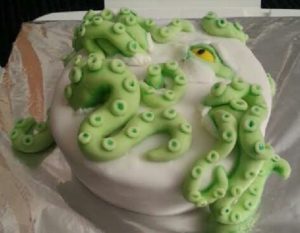 In case you haven't all guessed, I'm obsessed with Cthuhlu. I've read all of H. P. Lovecrafts mythos stories, own numerous RPGs (Call of Cathuhlu, Delta Green, The Laundry, as well as numerous source books) I even created my own knitted Cthuhlu pattern!
It also happens to be my literally just now finished project:
Cthuhlu mittens!
This is based on the free Ravelry download Cthulhu Mittens by Lyle Stafford. I changed mine so that I can, let's say, rather than pet Crumble with mittens:
I could…
Scritch her with my fingers instead!
I sense more mittens in my future as I had a lot of fun with these, but there are other projects to be done first…so many projects, so little time…
In other news, I went to the pop up knitting show in Port Sunlight (as it was pouring with rain, good ol' British weather!) And accidentally bought myself a very nice little ball of wool that was positively singing to be a shawl. So that is what it shall be.
And that is what will be in my needles next!
Starting total – 697
Wool used – 91
Wool bought – 10
Wool given – 4
Total – 620