Still knitting things for that father's Day market the school is running, and I'm pretty low on creative generic ideas so…more beer!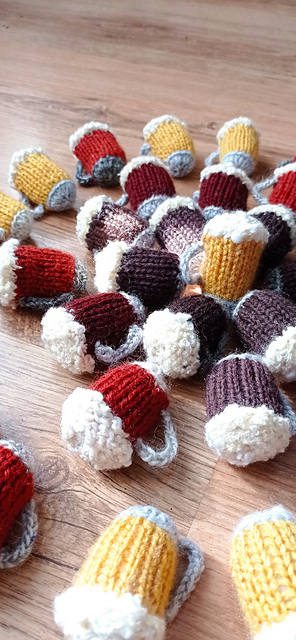 Lots and lots of cute tiny beer mugs! 40 in fact, to join the 23 beer mats I knit. Will be turning these into keyrings and/or adding a loop of thread in to them so they can be hung places. The pattern is a free Ravelry download and it's Buy You A Beer by Tatyana Grigoryan
In other news, it's been Engels birthday weekend and he definitely crammed as much as he could in to make up for not having anything last year! Japanese restaurant date night, family meal with his parents, met up with friends for sushi and a mooch around town…
Yes, Engels idea of a great time always revolves around food. He gets it from his parents.
Whilst having a mooch, I finally managed to enter a yarn store…and there was a wool-cident. You see, I have a lot of wool. A lot, a lot, a lot of wool. But of all that wool, there are no adult sized sweater quantities which are the same dye lot, same weight, or same composition of fibres. And I want to knit a sweater. A very specific one that involves three colours.
I walked out with 30 balls. 10 of each. Even though that's enough to knit two adult jumpers, and by switching the contrast with the main colour, two more children's jumpers…yeah. it happened. My out total is still far higher than my in total, but man I fell off the sheep something bad…
Enough moping! I've had a productive and fun weekend, and my more fun planned for next week! But more in that when it happens. (Fingers crossed!)
Till next week, stay safe!
Wool Count
Starting total – 897
Wool used – 81 (1 this week)
Wool bought – 33 (30 in…)
Wool given to me – 21
Wool gifted to others – 1
Wool handspun – 8
Total – 878 (My plans of trying to get below 800 this year I think has been successfully dashed…)