I'm not the one who acquired new skills – Felix has!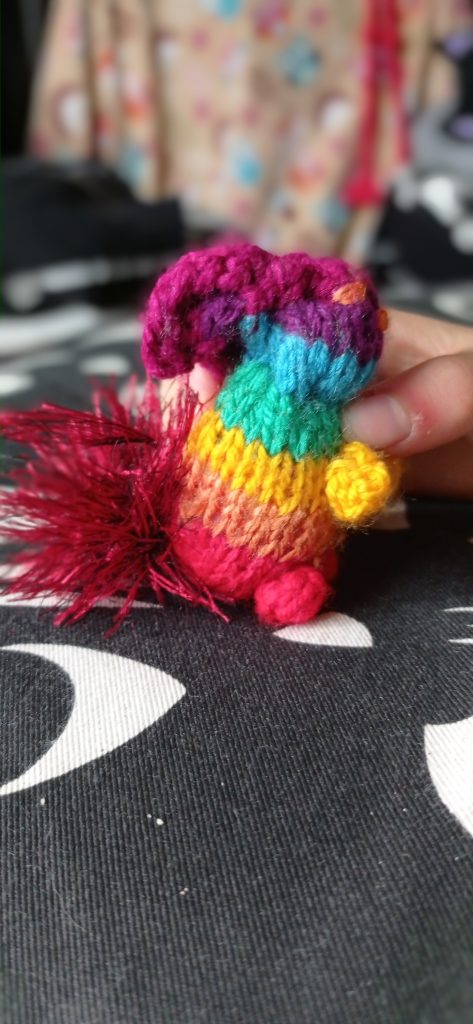 I'm taking a moment to be a very proud mum, please do indulge me a little! Felix has long been able to do the knit stitch. Not necessarily well, but she understands the option and mechanics of it. We bumped it up recently to include Purl stitch and…she took to that like a duck to water.
I don't know if it's because she's left handed and knitting right handed like how I knit, but the purl stitch just seemed easier. We did rudimentary increasing and decreasing as well, and more importantly colour changes, to make the super cute rainbow square rabbit pictured above.
Ok, I'll stop now. The finished knit I had planned to show you is still sitting, unsewn. Not due to procrastination, but because I need the teapot it's meant for before I sew it to ensure a perfect fit! I could guess, but then it runs the risk of not fitting, of being lop sided…nope. We'll have to wait.
In non knitting news, Inklings room had a long overdue overhaul. The weekend was spent ripping out his old bed and building a cabinbed – essentially a bunk bed with a desk underneath – where his computer, cannibalised from the parts of others lying around, sits, waiting for his e-learning that is due to start at the beginning of the next school year.
So, without further ado, I shall say cheerio and get back to tidying up and reorganising Inklings room!
Wool Count
Starting total – 843
Wool used – 56 (1 since last update!)
Wool bought – 23
Wool given to me – 29
Wool gifted to others – 1
Wool handspun – 3
Total – 841 (Net difference: -2 I am below my starting total!!!)