Yeah…I may have watched a lot of Pokémon recently…
Anyhow, first of all, Pip. My niece is collecting the whole Pusheen family, but the newest addition, little brother Pip, isn't available in a soft toy form, so for her birthday, she asked me to make her Pip. Not one to disappoint…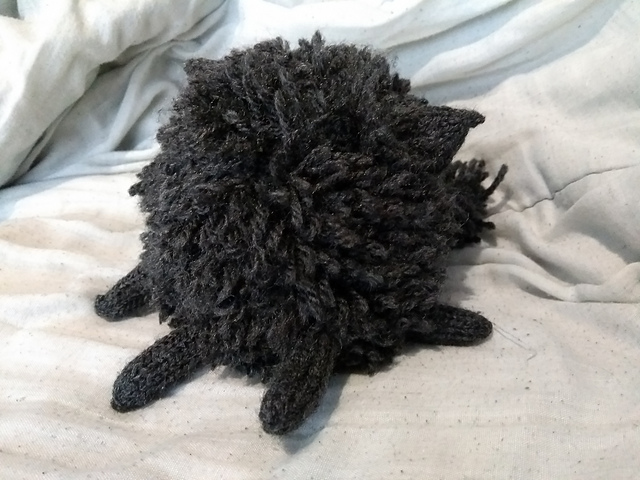 Based on the pattern Tiny and Stripy by Sue Stratford from her book 'Knitted Cats and Kittens' – I followed the pattern more or less as written, except I used loop stitch then cut the loops at the end to make it super fluffy.
Awesome. Super.
Except you can't make one (my niece) without making for the other (nephew) it's only fair. And he's really into Pokémon right now, so…
I used the free pattern pokeball pokemon toy by Emma Whittle, super quick and super easy.
After Felix pinched it for the eighth time to throw at various things and yelling 'I choose you!' or 'I'll catch you!' I realised two things.
One: Felix wasn't going to let me give away this pokeball.
Two: I made Pip for my nieces birthday. Not her Christmas. I don't have to make my nephew something until his birthday, and even then only if he wants something.
So Felix is tucked up in bed with her pokeball.
After throwing it at her daddy a good dozen times to catch him, I don't think he was too amused when I said to her that she was trying to catch a Snorlax…
Anyhow, still have that big project on the needles (keep picking up and putting it down as I start and finish other projects) and I have a few more little ones to do as well…
Including this year's Christmas decoration!
Till next week.
Starting total – 650
Wool used – 146 (3 since the last post)
Wool bought – 51 (2 balls of white DK as I'm almost out, and I surprisingly enough use a lot of white…)
Wool given – 135
Wool gifted – 59
Total – 627