Well, motorbikes. Which is what I'll start on then I'll get to the butterflies.
On Friday, Engels motorbike died. We knew that she had begun to slowly mechanically deteriorate, as all things do with wear and tear and the lovely state of British roads. She was a work horse of a motorbike and did a 40 mile round commute everyday in sun, sleet and snow. So when she died, Engel was left in a rather awkward predicament or requiring a motorbike to commute to work, as he cant feasibly get there via public transport, as fast as possible but with no actual savings to get one.
Yesterday (Saturday) we called upon a few favours and managed to get someone with motorbike know how to, firstly, breathe a few more last breaths into the old motorbike, and then go with Engel to kick some tyres and find a replacement. It was a long day, and I ended up driving for a total of 4 hours (but there was lots of doggy cuddles, four huskies and a collie!), but a new lovely lady of a motorbike was found and we just have to get Engels poor workhorse of a motorbike to last a few more days until everything is in place to get the new one.
Not going into any great details, but I now have a motorbike to pay off, so I'm officially reopening commissions – since Felix was born I've pretty much only been making things upon request for friends and family (and work colleagues, as Yorrick is proof of) but as of now, anyone can request one. Full details on the commissions page.
I'm curious to see what requests get made, I've had quite a few interesting ones in the past – life sized knitted recreations of peoples pets, items from games or movies, a knitted womb that would double as a purse… (that last one wasn't made in the end, after it was explained to me that it was going to be a 'congratulations on your hysterectomy' gift, I didn't feel it would go down well and I do like to think I have a pretty dark sense of humour)
Now, onto the butterflies!
Felix has asked for a 'mini beasts' birthday this year (for those wondering what a mini beast is, its now the 'correct' term for creepy crawlies, insects, bugs etc – schools didn't feel it fair on the insects to cast a negative light on them by calling them creepy). Her birthday isn't until September but I figured that insects would make nice, small, travel sized knits.
So I started with butterflies…
Using the pattern Common Blue Butterfly by Lesley Stanfield from her book 100 Flowers to Knit & Crochet
I made a lot of butterflies.
But they were so good for using up scraps…
And using my hand dyed wool…
Oh, and I needed moths too!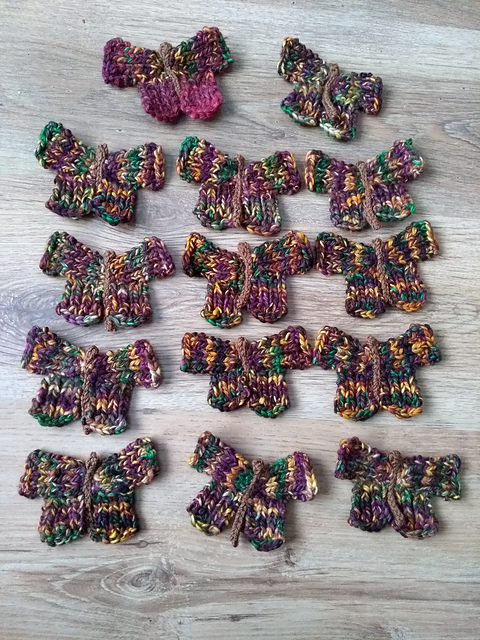 After realising there was about 50, or maybe more, of the things I decided I had to make myself stop and choose a new insect for travel knitting. When I finish with that one, I'll do another post like this one!
I'm going to go and get back to knitting some socks now (a very 'normal' knit for me I must say!) and working out which husky pattern to cast on next as a thank you for the motorbike friend…
Wool Count
Starting total – 576
Wool used – 56 (8 this week!!)
Wool bought – 13
Wool given – 155
Wool gifted – 31
Total – 660