Aim for the moon…
And you'll always land amongst the stars…
I loved that saying as a kid – it made me feel that no matter how high you aim, with hard work, you may not get all the way there, but you'll get somewhere.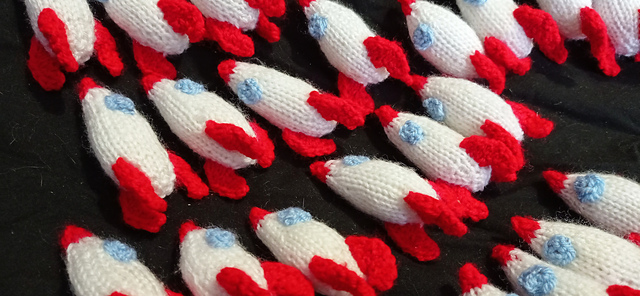 It's been another hard week, and I am certainly feeling like the moon is very far away right now! I may change my aim and go for some far off distance planet…Saturn looks very pretty…
But enough about that. Let's talk about rockets. Inklings school has been encouraging parents to send in party bags and to do little birthday parties in the class as to avoid people mixing bubbles arranging their own kids birthday parties given our times of plague. I like this plan, the kids get to celebrate, there's no added stress of covid, and it's a lot easier to just not have to worry about it. The only issue is, my two are used to having a party with a theme and a party bag with a little knitted something in it to match said theme.
Isaac declared all things transport. Cars, buses, planes, trained and rockets. He only declared this about two weeks ago and the party bags are getting sent in end of next week to quarantine before distributing. A quick and thorough browse through Ravelry and my knitting books and I came across Mini Knitted Rocket Ship by Ilana R. Marks. It's not the first time I knitted this pattern – Isaac has a Fallout inspired Red Rocket mobile (now taken apart as just toy rockets)
It's quick, easy, and with 30 to make…well, the perfect pattern!
A short post this week, but do remember, aim for the moon and keep safe, I'll see you somewhere amongst the stars!