Its been a busy week! Mostly of my own making, but it's been good at least. Yesterday I met up with a group of friends whom I haven't seen in person since pre-Covid. One set, whom I have seen, fell in love with my knitted jackalope head.
I had a spare set of antlers…and plenty of natural fleece to spin…and well, I was going to see them so…on Friday I made the decision to spin the fleece.
And by Monday night, I had all that I needed spun and plyed and wound into balls of wool ready to knit.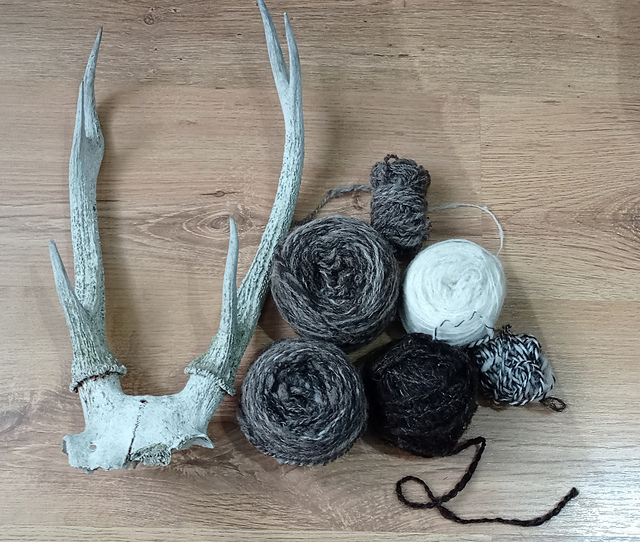 Tuesday to Friday saw much frantic knitting, as well as Engel stepping in on the Wednesday to saw the skull down some more to allow me to fit it inside the jackalope head, and Friday saw the last bits knitted and all the assembly taking place.
Pattern is a modified version of the free pattern my dear – a deer trophy by Claire Garland and the wooden plaque is from Pallets2Place – commission piece in regards to both size and shape! I also have another two to redo my other knitted heads as I was so impressed with it!
The wooly critter was handed over yesterday and then there was lots of axe throwing – the reason for everyone meeting up was to have a laugh and test our apocalyptic survival skills. I did far better than I had expected! Then there was food, home, meeting with in laws and more food.
Today has been much quieter – a play in the park, climbing trees and a quiet afternoon of playing games and getting on with some sewing.
How have your weeks been?
Till next, stay safe!
Wool Count
Starting total – 897
Wool used – 111 (4 this week!!)
Wool bought – 33
Wool given to me – 47
Wool gifted to others – 4
Wool handspun – 11 (2 skiens for the jackalope head!)
Total – 880 (A net total of 17 down)