Goodbye 2016!
I don't know if a lot of people feel the same way, but 2016 was cursed. My family was hit pretty hard, there's been death, terminal illness and long term ill health. I won't go into detail on those.
One I will speak of however is Salem, he died in Engels arms on the 21st of December.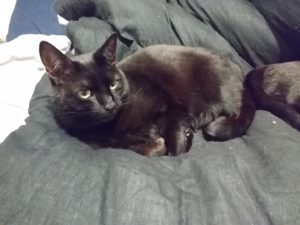 (Picking a photo of him just now brought the tears back)
Despite the rest of the menagerie (2 more cats, 2 tarantulas, 1 snake, 3 fish, small child) the house feels a little empty. Explaining death to a 3 year old, whilst an important lesson, was not a delightful experience. I'd have rather gone over where babies come from with her again! (Yep, had that talk a few months ago as well)
So here's to 2017 being a better year. Fingers crossed.
In knitting news, just one complete project to show:
It's the last knitted thing for my neice to be, over in America. It's based on the pattern Little Daisy Cardigan by Sublime Yarns – I made the garter at the bottom deeper and used two colours. Also knit numerous prices together rather than separately to be sewn together afterwards.
Got a more fun, but giant, project on the needles at the moment – more on that when it's finished!
Lastly, as it's a new year, I get to reset my wool count and start again – hopefully I'll have a bit more restraint this year and not buy so much!
Starting total – 650
Wool used – 6
Wool bought – 0
Wool given – 0
Total – 644