Or maybe that should be Crumbles! Crumbles! Crumbles!
Why do you ask?
Because: Crumbles!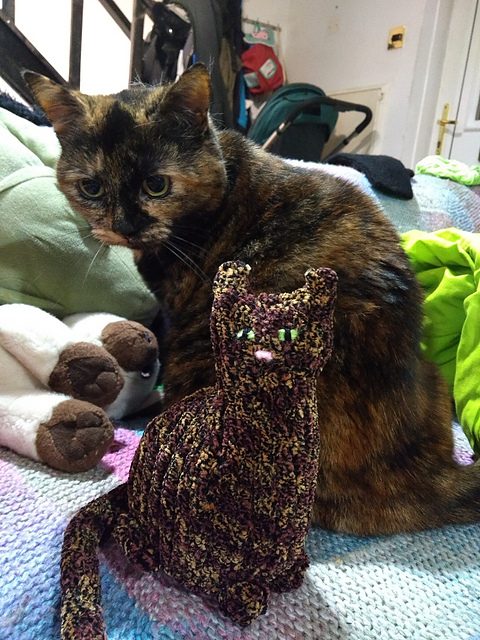 Crumbles!
Crumbles!
Hee Hee! I couldn't resist, apologies. Patterns used are both free, the sitting cat is Tiny Window Cat and the lying down cat is Tiny Parlor Cat both patterns are by Sara Elizabeth Kellner. She has full sized versions of them also but…well…let me start this story at the beginning.
For Christmas Felix got me a ball of wool and, upon opening my present, informed me it was 'Crumble wool' and that it was to knit little Crumbles. Crumble btw is my pet cat, and the one that we've had the longest, she's a big old softie with the loudest purr I've ever heard. Anyhow, I'd managed to free up my knitting queue to knit the little Crumble, only the wool is chunky. So I had to find a pattern for a tiny cat to make it a good size. Then I found not one, but two, perfect patterns, and so I made a not-so-tiny parlour and window cat!
That's pretty much everything for this post, it's mothers day and with two little terrors celebrating the day with me, it's been pretty busy!
P.S. the word 'Crumble' appears eleven times in this post. That's impressive!
Wool count:
Starting total – 23 – 0 this week – 🙁
Wool bought – 4
Wool given – 5
Wool gifted – 0
Total – 605 (So near my 600 ball goal!)