Free pattern!
Hi all,
I'm offering a free pattern as an apology for a lack of update last week – not that much happened (well, above the normal level of madness!) But just failed to actually post anything.
I do however have a few offerings this week to make up for it!
First of all, the pattern for the fox bag holder / purse I posted last time is now available in the 'free pattern's section – or you can skip straight to it here.
Yeah! Been a while since I published a pattern!
What else?
This!
It's a shawl based on the pattern 'Peruvian Cat Lace Scarf' by Donna Druchunas from the book 'Kitty Knits: Projects for cats and their people' – I love this book, and have made a number of the patterns now.
So, the story behind this one:
Decided to make a shawl rather than a scarf as I felt that the recipient would use it more. (She's mad about cats, so using this lace pattern for the shawl was ideal)
Managed to make the full sized shawl (3ft from point to top) in five days, having cast on Monday evening and finished it with 15 minutes to spare before setting off for the birthday dinner it was being handed at…
I was also juggling full time work, being a mum, and trying to keep the house tidy enough to live in! But not bad if I say so myself!
Tempted to make one for me (in black) and Felix (my two year old) is demanding one in blue. Or purple. Or blue and purple…
But that's just one week of knitting, what about the other? Well, I have a toy in progress that's taking quite a bit of time, but more on that when it's done, and j finished my fluffy wool projects.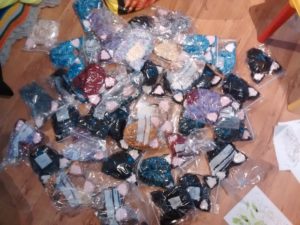 There's…43 sets of cat ears and matching tails there. It's a rather messy photo, but also the best way to show the sheer quantity of them.
Worryingly, I still have a load of fluffy wool – nothing to make a set of ears and tail with, but at least it's manageable! In time, I'll turn the rest into fluffy mice or fish as cat toys, but right now? I'm satisfied with the dent I've put in my wool stash.
I just need to work out what to do with 43 sets of cat ears and tails. Should probably attend a craft fair, or maybe a mandatory wearing of cat ears birthday party for Felix in September…
Any suggestions?
Starting total – 697 balls
Wool used – 73 (5 since last post)
Wool bought – 9
Wool given – 4
Total – 637