Cat Hand Puppet
I was asked to recreate a cat hand puppet that Engel was given when he was tiny. Its an adorable toy, and pattern, but there's a lot of sewing involved if I was to follow it truthfully. So here's an in-the-round, as little sewing as possible, version of his childhood cat puppet!
Materials
-4mm double-pointed needles
-Stitch marker
-Cat coloured chunky yarn
-Small amount of black thread for mouth and eyes
-Small amount of pink thread for nose and paws
-Small amount of contrast colour for eyes
-Small amount of white for whiskers
-Tapestry/yarn needle for seaming
Abbreviations
St(s) = Stitch(es)
CO = Cast on
K# = knit # stitches
P# = purl # stitches
Inc = Increase by your preferred method (I prefer to M1)
Dec = Decrease by knitting 2 stitches together
BO = Bind off
Gauge
19 stitches and 28 rows = 10 cm in stockinette stitch
Puppet
The puppet is worked from the bottom up, in the round. The arms are created by casting on additional stitches, working a few rounds, then binding stitches off. The top and bottom of the arms will need to be sewn afterwards. The head itself is square with the ears being created with a little bit of crafty sewing afterwards.
CO40 sts in cat colour, divide across four needles marking the start of the row with stitch marker (40sts)
1 – K 1 row (40sts)
2 – P 1 row (40sts)
Repeat rows 1 and 2 once more. This creates a garter edge at the bottom of the puppet and helps stop it curling.
5 – 27 – K 23 rows (40sts)
28 – K20sts, CO14sts, K20sts, CO14sts, ensure all stitches are joined in the round. This creates the bottom of the arms. (68sts)
29 – K 1 row
30 – K26sts, inc next 2 sts, K32, inc next 2 sts, K6 (72sts)
31 – K27sts, inc next 2 sts, K34, inc next 2 sts, K7 (76sts)
32-34 – K 3 rows
35 – K27sts, dec next 2 st, K34, dec next 2 sts, K7 (72sts)
36 – K17, BO22, K14, BO19 (31sts)
37 – BO3, K to end of row These two rows will create the top of the arms. (28sts)
38 – K 1 row
39 – Inc 1 st, K12, inc next 2 sts, K12, inc 1 st (32sts)
40 – Inc 1 st, K14, inc next 2 sts, K14, inc 1 st (36sts)
41 – Inc 1 st, K16, inc next 2 sts, K16, inc 1 st (40sts)
42-61 – K 20 rows
BO all sts. Alternatively, you can work a three needle BO at this point to close the head and save a little on sewing.
Tail
The tail is worked as an i-cord, again to save on sewing and for a neater finish. Roughly 10 rows from the CO edge, pick up and knit 4 centre sts.
1 – K1, inc next 2 sts, k1 (6sts)
2-25 – K24 rows
Cut yarn and thread through remaining sts.
Alternatively, you can knit the tail separately and sew on afterwards.
Finishing
Sew the top of the head and arms closed. Sew the bottom of the arms closed. Tuck in loose ends. To create ears, sew diagonally across the top corners of the head, through both the front and back of the puppet, making sure to pull the thread tight to create the ears. (see diagram below). Using various coloured threads, sew on face and paws, making sure not to catch the two layers together otherwise you wont fit your hand in! I've put on the diagram what I did for the face, but feel free to do your own!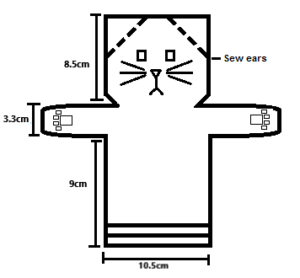 Sizes given are approximate.
Pattern copyright of foxymitts.co.uk