Every year, since…2007 I have made a decoration for my Christmas tree.
2007: The one to start it all, a tiny santa hat for the top of the tree. No pattern used, just kind of winged it with what I had on hand.
2008: Pattern is Advent Tree: Sugar Mouse by Alan Dart – to mark the fact that the flat I was living in (a very old listed building) had mice in the walls, and under the floors, and in the ceilings…
2009: Pattern is Advent Tree: Marzipan Pig by Alan Dart – to commemorate the swine flu, I was also doing my first job after uni which was QC checking the swine flu vaccine vaccine.
2010: Another pattern I winged, a guinea pig in a test tube (ok, a pot for holding swabs, but close enough) as I was onto my second job, which was a mix of sales and microbiological testing. My favourite client was a guinea pig farm – I got to cuddle 200+ baby guinea pigs!!!
2011: Based on the free pattern Beans the Cat by Linda Dawkins, this is Crumble the cat, the first cat we fostered. Also our first pet cat as she was deemed unhomable due to the many issues she had with people and food (she was treated badly before we got her)
2012: Based on the free pattern Rose pins by Sarah Kim Tenbuecken – a set of four tiny roses in the same colours as my wedding bouquet (yep, decided to get married in the same year the world was supposed to end) Interestingly, I made these again as actual hair pins in 2016
2013: Free pattern Tiny Onesies! by Akaemi Barnett – to mark the birth of Felix (right) and the other was for my bosses daughter, also born 2013, 6 weeks after Felix. (This is also the first decoration I actually posted on the blog in real time!)
2014: Free pattern Tiny Train Knitting Pattern by Diane Stobbart – marking Felix's first birthday being held at a miniature railway.
2015: Free pattern Oisin owl by Pauline Gallagher – to match the owls on Felix's stocking
2016: Based in the free pattern Phoenix and Dragon Finger Puppets by carinbrat – tweaked the wings, turned the puppet into a body…nothing too major. This red dragon is to represent Wales, as we had our first proper little family holiday there.
2017: Free pattern Tiny Onesies! by Akaemi Barnett – to mark the birth of Inkling, it only seemed fitting to do the same as I did for Felix back in 2013! They're even both made with the same ball of white sparkly wool.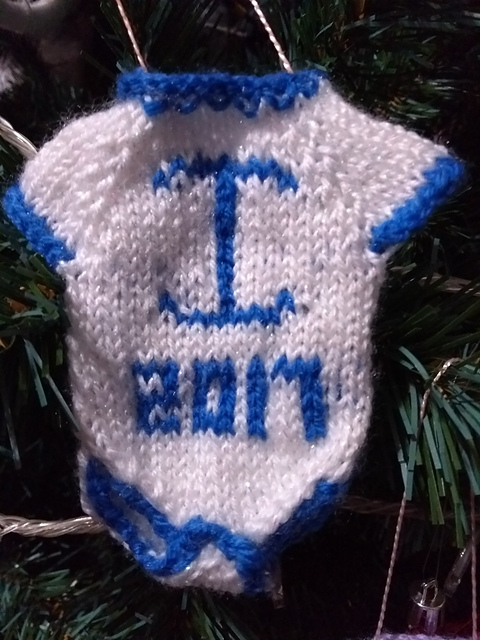 I wonder what 2018 will be?
Starting total – 650
Wool used – 149 (1 since the last post)
Wool bought – 51
Wool given – 135
Wool gifted – 59
Total – 624