Inkling turned one on Friday, and I can honestly say I have no idea where the year has gone. I swear time moves faster the older you get!
We had a BBQ for him on Saturday (Hungry Caterpiller themed due to Inkling being nicknamed as such due to his bottomless appetite- he actually gets separated at nursery from the others during meal times as he steals the other kids food!) and it was great – gorgeous weather, tasty food, and great company. Unfortunately, not everyone could make it (to be fair, most had good excuses, like being in Australia, looking at you Rabbie!)
Something that has changed since I was little, is that kids get party bags when they go to someone's party, and on this note, it was decided that since Inkling was a kid, there needed to be party bags.
But adults don't need bubble wands and sweeties (ok, they do, but that's not the point!) and with the Hungry Caterpillar theme…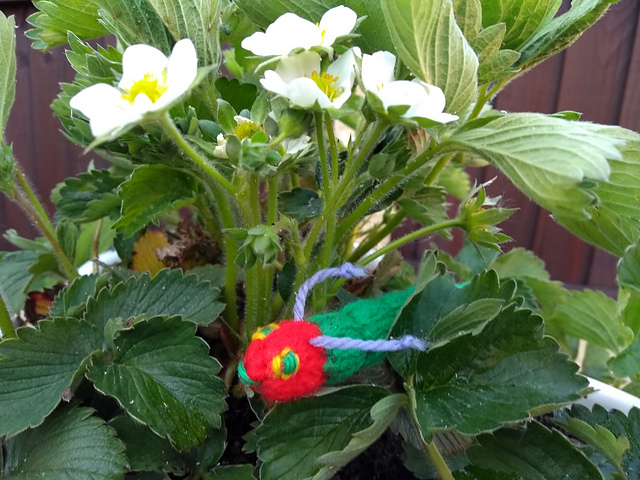 A caterpillar! Based on the free pattern Easter Egg Toys by Kimberly Chapman.
And for the bag, a cocoon! Based on my own free pattern! Just reduced by a third in size.
And a beautiful butterfly to finish it off! Based on the pattern Common Blue Butterfly by Lesley Stanfield from her book '100 Flowers to Knit & Crochet'.
I, umm, did make too many though…oh well! They looked cute strung up with some ivy Felix helped make!
Wool count:
Starting total – 622
Wool used – 42 (5 since last post)
Wool bought – 6
Wool given – 5
Wool gifted – 0
Total – 588