I know its only November, and I'm breaking one of my own cardinal rules, but I'm going to talk about Christmas.
(Normally I don't talk about it till December, I get the shopping done in January mind you, but I don't actually like the whole festive thing till December)
But I have a two year old and she knows what Christmas is all about: presents!
And in my case, craft fairs. So, some Christmas knits! Its all tree decorations, and I'll state now, not all of these are stock, a lot of them are because Felix saw the pattern and then demanded 'mummy make! Mummy make me happy!'
How can I refuse?
So, onto the photos!
Advent Tree: Candy Cane Heart by Alan Dart (expect to see more of these patterns, Felix wants the lot, except the elf…
Free online Santa hat (tree decoration sized) pattern. Its Knitted Santa Hat Christmas Ornament Pattern by Linda Dawkins.
Felix loves stars, I think its cause she sees them in the shops and they're bright and sparkly…so this was a must. Free Ravelry pattern called Stjarna by Karolina Eckerdal. These ones are knit in a sparkly silver wool, for extra cuteness!
And last but not least, based loosely on the free Ravelry pattern 'Oh Balls!' by Marcie Nishioka, with some creative colour changes and additions…
Reindeer!
Robins!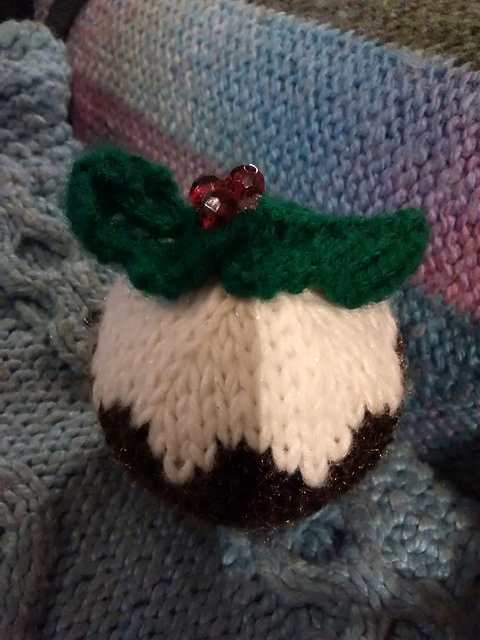 and Christmas puds – oh my!
What else? Not a lot bar work and DIY and life…oh, wool count! 6 Balls since last post (and one was a 500g one too!)
Wool Count down:
Starting total – 747 balls
Extra stash found – 20 balls (so far)
Wool used – 104
Wool given – 3
Wool bought – 45
Total – 713