The cats paw-jamas
So fur, so good on the puns! I have stopped paw-crastinating and finally finished the Cheshire cat accessories!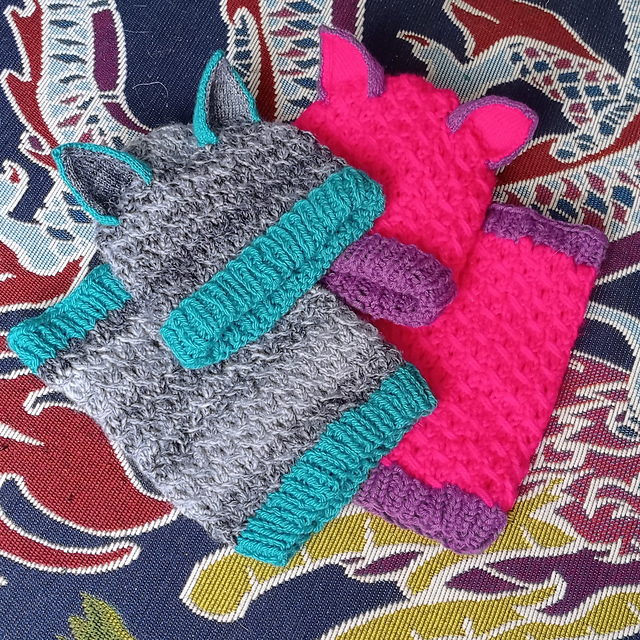 At last, I have sewn the ears onto the hat and they are just clawsome. The matching cowls are a paw-dorable touch in my opinion!
But wait, there's more! You all saw the arm warmers the other week, well, on top of those, the hat and the cowl, oh, and the jumper…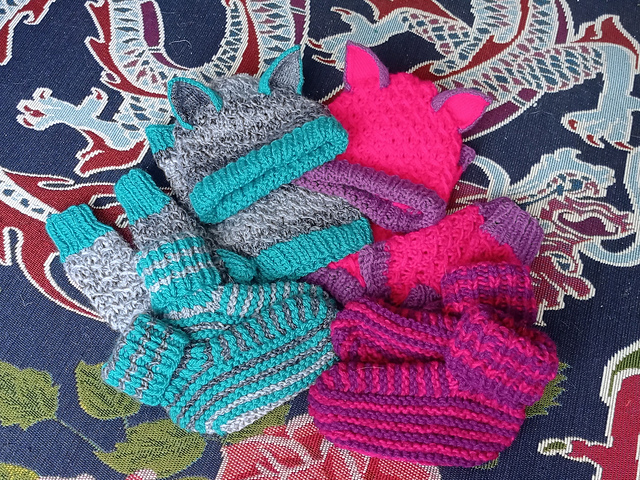 Slippers! I did paw-romise that I would wrap Rabbie up, from head to toe, or should that be paw? Regardless, she's gonna be snug and warm even in the hotel room!
Haven't decided just what to start next as my main knitting project – I may work on the owls in the background and work on some viking accessories for the absolutely gorgeous viking ensemble Rabbie has made me! This just shows the mock up of the kirtle and my under kirtle, I have my paws on the whole lot and take my word on it, it's beautiful.
Now then, I think I have a skjoldehamn belt to start…
Until next post, stay safe, take care, and get crafting!
Starting total – 880
Wool used – 42 (+8)
Wool bought – 24 (+2 – I needed something quite specific for my nalbinding endeavours!)
Wool given to me – 15
Wool gifted to others – 3
Wool handspun – 2
Total – 875 (Net difference: -5)
Its a miracle guys! I have finally gone below my starting wool count!!!!