Oh Mittens!
Remember how two weeks ago I said:
Thats all for this week, hopefully I will either block one of my knits to show for next week, or finish a different project which has taught me the importance of paying attention and reading ahead in a pattern. Again. Twice. I mean, Inkling can totally do with 8 mittens, right?!
Well, I did block my jumper as you saw last week, and this week it's time to come clean about the mittens.
Oh the mittens.
In short, Felix has been asking for a pair of city mitts' like mine, but cats. She spotted the pattern Flippy Kitten Mittens by Marna Gilligan in the 'Cats knits' book I was recently gifted…except they were adult sized.
Inkling saw these and also demanded them.
So I had them 'shop' for wool in my yarn stash and pick the colours they wanted. I measured their hands and, after some debate, settled on doing Inklings first as he didn't want the flip part that turned the wrist warmers into mittens.
Easy, right?
I cast on for the pattern, dropped needle size, tweaked the stitch count, worked some math and measured all the way and…voila! First pair done!
Except the pattern is written so you have two different coloured cats on each mitten, and each hand has a different coloured cat on top, so they're not identical. Inkling pointed out he had requested ginger cats on the tops of both mittens.
Ok, easy enough, I just flip the colours of what I did before. Except I didn't.
Inkling was even less amused.
And so, I knit two more pairs, painstakingly triple checking I had flipped the colours to give:
Four pairs of mittens so he has matching ginger or grey or mix matched pairs. And if he loses one, doesn't matter, there's seven more to go!
Life has a habit of, just when you think you can easily alter something and knock it out because you think you have enough skillpoints in your knitting skill…and you roll a critical fail instead and end up with eight mittens…
Oh, and for those curious, here Felix's: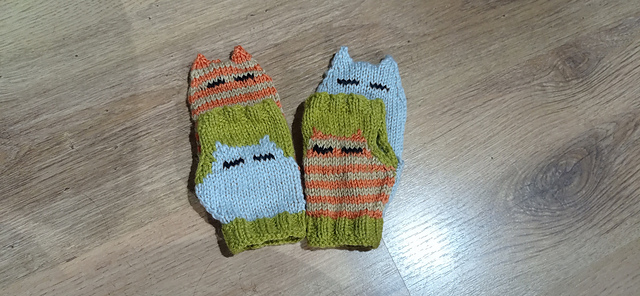 She wanted them to be different coloured cats, and she wanted the flip top too. See below for a view of the tops of the mittens when folded over.
In other news, it's busy on the project front, more on that when each one is ready, and work wise it's pretty manic, so I've been doing overtime. Managed another session of Cthulhtu on Friday and it's getting tense, cannot wait till the next session to see how they're going to get out of their current mess! And aside from a playdate with Felix's friend today, that's about it. Oh, and snow.
Storm Arwen has mostly avoided us, but today we've had a steady torrent of snow. It's finally stopped now, but with freezing temperatures predicted tonight, I suspect a cold and frosty morning will be in order!
No wool count as no changes this week!