Happy 2018!
May this year bring health and happiness to us all!
Despite the fact that Inkling was born, this has not been a very great year, not as bad as 2016, but still not a great year. Fingers crossed things turn round for 2018!
But your not here to read my woes, your here for the knitting! And I do not disappoint!
Several months ago I started the great Very Hungry Caterpillar Set (X 3) and declared it finished at the start of September. One set went to Felix, the second to the school my mother works at (as a teaching aid for the autistic children she works with) and the third…hasn't been homed. But that's a different story.
Anyway, Felix immediately asked why there was no fat caterpillar, I put it down to her just wanting everything and she already had a caterpillar, she didn't need the fat one.
Then I asked my mum for feedback from the school. About fifty kids had played with it, and loved it.
Every. Single. Kid. Wanted. A. Fat. Caterpillar.
All. Of. Them.
So, not to disappoint, I've reluctantly gone ahead to make the fat caterpillar.
It's a monster.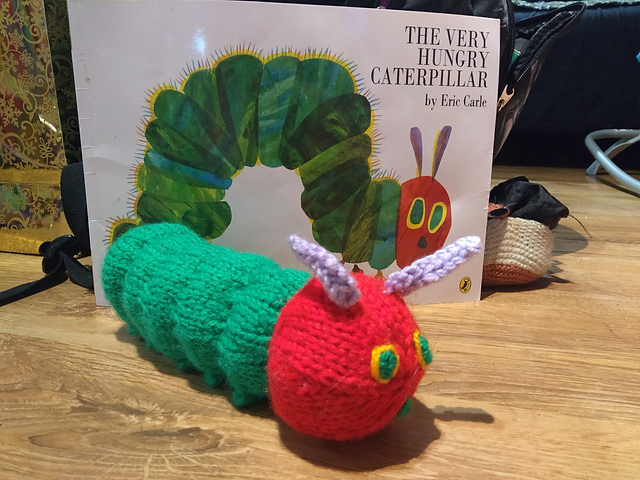 No, you can't really appreciate the fatness of this caterpillar. Let's compare it to the original caterpillar.
He could eat 4 of the small caterpillars for breakfast – and he would still be hungry!
Joking aside, I've winged this pattern out of thin air, and still need to make another two for the other sets, but I couldn't resist sharing it with you all, especially as no doubt a lot of us probably felt like the small caterpillar at the start of the festive season and a lot more like the fat one by the end of it!
Lastly, start of a new year, so the wool count gets refreshed! I did manage to use three balls of wool since last post and Felix bought me a ball for my Christmas, so with that in mind, the wool count looks like this:
Starting total – 622
Wool used – 0
Wool bought – 0
Wool given – 0
Wool gifted – 0
Total – 622
Have a good year everyone!