Tentacle Terror!
Let's start with a story. Every time we go into Manchester, Engel likes to check out the gaming shop (so do I for Call of Cthulhu RPG expansions) and if Felix is good, she gets a dice for her dice bag.
For some time, Felix has called this shop "The Tentacle Shop" as it has a plushie tentacle. A month or so ago we went and, horror of all horrors, the tentacle was gone. Even though it wasn't for sale, it had been sold (some people are very pushy) and Felix was devastated.
Felix informed us (and the shop) that there would be tentacles – she was going to make some and so was mummy. I shrugged it off (my to knit list is ridiculous right now). She did indeed make a tentacle herself out of paper mâché and pompoms and was very pleased and I figured that was that.
Then, the day before Free RPG day, she asked me where the knitted one was as she wanted to take it to the tentacle shop and give them it as it can't be the tentacle shop without one.
Cue mad panic cast on, and with an hour to spare:
Its based on the free pattern Gripping by Hunter Hammersen, I added little bobbles for the suckers.
The tentacle was given to the tentacle shop, Felix got her dice, we got free RPGs, everyone was happy.
Then Felix asked where her tentacles where.
Sigh.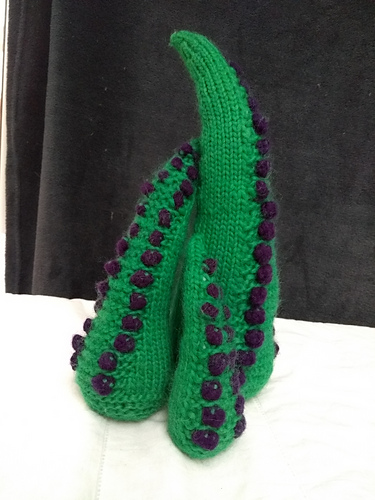 But I have had fun with them…
Maybe a bit too much!
Wool count!
Starting total – 650
Wool used – 59 (3 since last post – lots of partial balls used)
Wool bought – 33
Wool given – 49
Wool gifted – 59
Total – 614