Of Cake and Tribbles
Happy local yarn shop day! And happy free comic book day! I did both, so I have a stack of free comics to peruse and there may have been some wool purchased…but it's part of a karmic balance I did earlier on!
However, let us first start with the cake part of this post: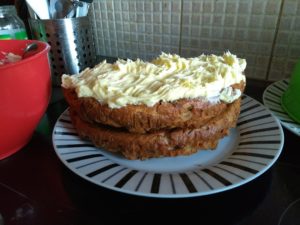 Engel is diabetic, so can't have sugar and we've explained this to Felix a few times now, but the other night, after eating all her dinner, she got a post dinner treat, as did Engel and I.
She then clicked that we were all eating the same thing, to which we explained that this was sugar free, therefore daddy could have it too. This led on to explaining about 'special chocolate' and 'special jelly' etc (in this instance, it was sugar free jelly)
So Felix asked about special cake, to which we had to then explain it was hard to buy as not many companies made it, and fewer shops stocked such items.
After thinking for a bit, Felix asked me if we could make one. So we did. (Not the 'now' she demanded which was ten minutes before bed, but one was made at seven the following morning!)
Cake recipe used: sugar free spiced carrot cake
Frosting used: sugar free butter cream icing
I have it on good authority that it was very tasty, Engel is currently hoarding it like a dragon with a stack of treasure…
Alright, on to the tribbles part of the post!
Over the years, I've compared my wool stash to tribbles a few times, even made some comics about it:
Just realised that these are over five years old…I don't draw anymore, but if you want to look at more terrible but amusing doodles of mine they're on my extinct Deviantart drawing account (I have two, one for knitting and one for drawing)
Anyhow…I joined a stash busting group on Ravelry, joked about my wool/tribbles collection, decided to pattern search tribble (why not) and discovered Tribble by Abigail – 1870pearl. Its a knitted scrubber. Here's mine:
So seeing as I'm sure my wool stash is actually part tribble, I figured I'd make a tribble out of it and, if it proved useful, I'd make a small hoard.
If it's a wash out (ha, see what I did there?) Then I'd throw it in the washing machine and Felix can have it for her toy kitchen.
Win-win!
They bred.
So, those wool purchased and karmic wool stash switch I mentioned at the start of the blog?
I had Sisterix over for a play date (her terror is a year older than Felix, so they had a ball, and we had a wooly playdate too, and both the other halves talked computers, so they had fun. Three playdates in all!) I had a good look at her stash a few weeks ago, and a demonstration of her knitting machine, and a look at all her crocheted toys!
I adore her crocheted Vlad the bat! (Pattern is lalylala VLAD the vampire bat by Lydia Tresselt)
So this time, she got to look at my stash and…well, with the size of it, we didn't get much further than that. After a bit of thought, I pointed her in the direction of my cotton which I barely/rarely use and my good stash karma began!
It made me laugh, her partner kept asking how much swag she was bringing back. First one carrier bag, then another and then I just went and got a giant IKEA bag. I think he may have been a little speechless by the point…
Now after my little trip out today, my karma balance stands at being ten less balls than I started. I gave up 43, and came home with 33. And seeing the deals that were available, I could easily have walked away with three times that…
So, wool count!
Starting total – 650
Wool used – 41 (2 this week!)
Wool bought – 33
Wool given – 49
Wool gifted – 59
Total – 632
I'm never going to get to 600 at this rate…ah well, I'll console myself by cuddling my new wool purchases!