A knitty quickie
No, really, it is!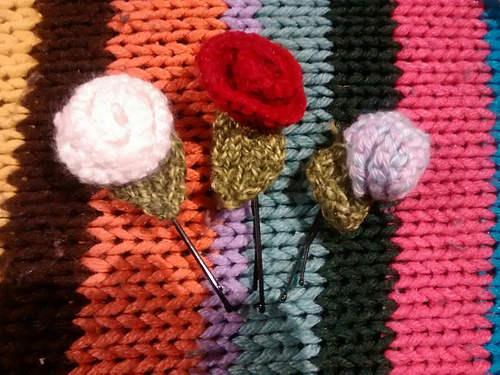 After finishing the Christmas knitting (hooray! But sadly still having all the sewing and finishing) I decided to whip up some of the cute Rose Pins! It's a free online pattern by Sarah Kim Tenbuecken and it takes barely any time to knit and assemble.
I doubt Felix will entertain them but they were still fun to make. Maybe her much girlier 'best friend' (Felix has bestowed this title on her, it's so cute!) will like them…
Anyhow, so Christmas knitting is done, just assembly, and then it's a few additional bits and bobs which I can post up here as and when made without spoiling it for anyone.
Had a bit of an accident at work, nothing major, but I am working from home for a little bit, and it's amazing how much more I get done when I can knit whilst reading through various articles, papers or reports. Shame I can't knit and type up manuals and my own reports though…
Oh, and for those who asked last post, I have unfortunately not been able to photograph Frankenstein's shapely derriere (as mentioned last post) as A Felix has been dragging it around everywhere and I can't wrestle it off her when she's sleeping either…next post I shall try! And make him trousers too. Haven't managed that either.
Starting total – 697
Wool used – 109 (3 since the last post!)
Wool bought – 53
Wool given – 7
Total – 658