It's Frankenstein!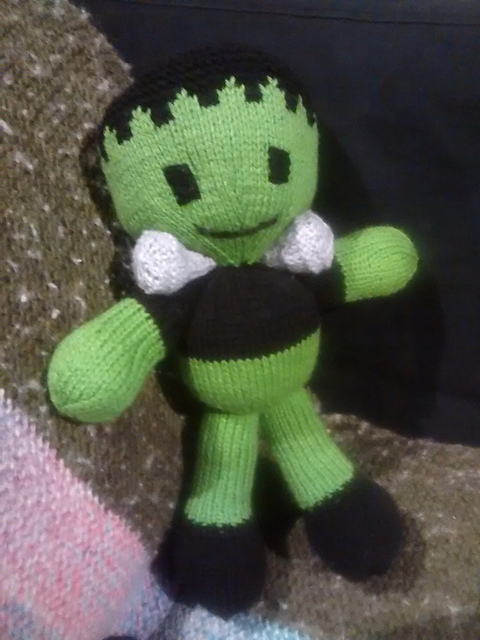 As an aside to all the Christmas knitting I've been doing, I took part in a Halloween MKAL – which turned out to be a cuddly Frankenstein.
My only issue? He doesn't have trousers on, and, well, I knit it as given, so it's seamed, not knit in the round, and he has a proper little behind too…
Ah well. That's life!
Other than this, knit wise, not much to report as I'm still plodding on with Christmas knitting, and that's going slow as I keep getting by everything!
It's been a busy few weeks at home – Engel started a new job so the usual routine is gone and the new one has a lot of kinks to get worked out still. Felix's friend turned three this weekend, so we've been doing lots of birthday stuff (there was even a make your own pizza party, which she took very, very seriously)
And my work has been manic. So manic I pretty much get home, see to Felix then once she's in bed, veg out. Hence not so much knitting…
Alright, short post, time for the unchanged wool count…
Starting total – 697
Wool used – 106 (0 this week)
Wool bought – 53
Wool given – 7
Total – 661