Happy Halloween!
More play food for Felicity, that happens to tie in nicely with the time of year! Its a free Ravelry pattern, 'Natural Look Halloween Pumpkin' by Caroline Lord.k
Also working well for the time of year, some baking that Felix 'helped' with.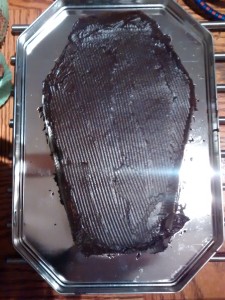 Its amazing how much fun a two year has mashing bananas…the recipe itself is a sugar-wheat-dairy free banana and date cake. Though to help the coffin appearance, I used some 70% cocoa chocolate and a few spoonfuls of cream to make a dark frosting. I'd say it went well at he party I took it to, but Engel made it clear it was his and everyone else should eat the sugar filled cake he couldn't have…
What else have I been making?
Market bags!
Lots of them! Its another free Ravlery pattern, 'Grrlfriend Market Bag' by Laura Spardin.
Rather than wrapping all my christmas presents with paper that would then just be thrown away, I opted to 'wrap' presents in market bags! The super colourful one was my prototype (and for Felix to play with) and I learnt one important lesson. Make the strap short, once any weight goes in that bag, its going to stretch.
Felix needs to grow a foot before shes going to be able to get any actual use out of hers!
I made five more afterwards, only got four photographed (and even then in poor lighting) and I may well make more, but thats all I had time for as I was giving them to all my family in Edinburgh when I was up for my mums birthday a fortnight ago.
What else to say? Its all been rather busy! Eh…oh, I've had a few queries as to how one accidentally purchases thirty balls of wool. Quite simply when the wool is only sold in packs of ten and I wanted three different colours. What a shame…but hey! Nine balls used since the last post, and not all of them little ones either!
Wool Count down:
Starting total – 747 balls
Extra stash found – 20 balls (so far)
Wool used – 98
Wool given – 3
Wool bought – 45
Total – 719
Annoying, despite using nearly 100 balls of wool, I'm only down by about thirty in my collection…