Pineapples!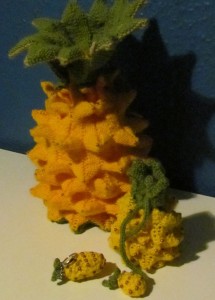 As you can see, pineapples!
Pineapple for keyrings here, and bag here.
I've not gone mad (well, more so than normal) honest! These are my mums birthday presents – the big bag was last years, and the matching purse and key rings are this year. She loves pineapples and its become a bit of a running joke – although I'll hastily add she does actually use these! The big one is a lunch bag and/or toiletries when travelling, and the little one she uses to store her electric cigarettes and chargers.
I like it when a present is used, though now I'm stuck for next years pineapple related present…suggestions anyone?
I gave her these when she was visiting last weekend, and on her actual birthday spoke to her via Skype – it was amusing joining in the birthday song and munching cake 300 miles away from the actual party, but hey, it was fun! I did also spend time chatting to my niece and, after her showing me her glittery Halloween spider, I showed her my own knitted tarantula.
Engel then upped us both by bringing in my real tarantula and showed her off, to my nieces horror and fascination!
Its been a quiet week otherwise, worked on some Christmas presents and some stock for the next craft fair – more on that in a future post!
Well, going to make a move and get back to my knitting needles.