First of all, apologies on missing my blog post last week – been having lots of family down visiting, and also a new addition!
Everyone, meet Ziggy: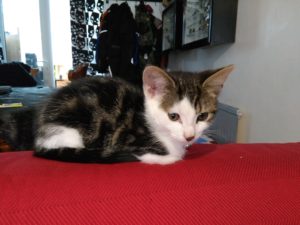 Now onto the knitted food!
Oranges: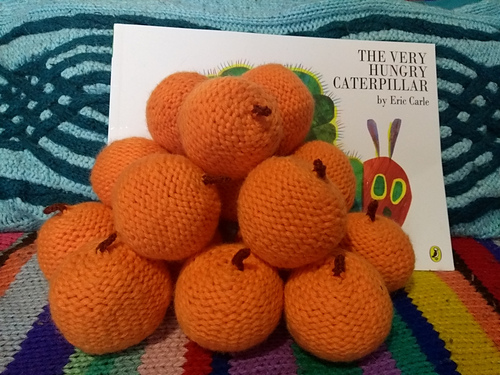 Pattern used was Advent Tree: Tangerine by Alan Dart. (Knitting 15 of those was a challenge in staying awake!)
Chocolate cake (with a cherry on top)
Used free knitting pattern Let Them Knit Cake by Hannah Kaminsky, and Cherry by Linda Dawkins. (I used fuzzy wool for the frosting, to give it a bit more texture)
Ice cream
Used free pattern Scooped by Marcie Nishioka (Felix decided she didn't want a pink one like in the book, and instead wanted her favourite ice cream flavour – mint choc chip!)
Pickles (yes, really, pickles)
Used free pattern Fuzzy Short Row Pickle by Ana Clerc (I was amazed this pattern existed, but apparently it's a German tradition to hide them in Christmas trees…?)
Swiss cheese slice
Very heavily modified the free pattern Swiss Cheese Scarf by Winnie Shih (My mods have been noted down on the project page on my Ravelry account)
Phew, lots of knitting! And still lots more to do to finish the Hungry Caterpillar sets…
In other news, been doing a massive clean up before the next round of family fun! There was a very near disaster though with Engel hoovering…much like the one documented here:
True story…killed the hoover too…but I got my wool back!
Man these comics are old…now I feel old…oh well! Back to knitting, it's salami next.
Wool count:
Starting total – 650
Wool used – 67 (2 since last post)
Wool bought – 33
Wool given – 49
Wool gifted – 59
Total – 606